Post harvest handling of banana
Sequence for proper handling after harvest:

Carefully harvest thebunches at 75-80% maturity by selecting a homogeneous bunch.

Separate the hands from the bunch without causing any injury.

Remove the flower remains and give the crown a clean cut.

Wash the bananahands in clean water and remove the greasy exudates and dust from them.

Wash the banana hands in a fungicide solution (Thiobendazole / Carbendazium (500 ppm).

Dry the fruits with the help of air.

Packing in corrugated fiber board boxes having polythene paper lining.

Pre cooling with the forcedair to bring fruit temperature to 13-14°C.

Transport to airport or sea port in refrigerated containers.

If transport is delayed keep at the airport or seaport in the cold storage.

Load in a refer container having temperature of 13-14°C.

When arrive at the destination unload and transport in refrigerated vehicle.

Store in cold storage till sale as per supply and demand.

When taken out of the cold storage, allow moisture to come out and air dry at room temperature.

Ripening of bananas using 100 ppm ethylene gas for 12-18 hours.

Send ripe fruits for retail sale in market.
| | | |
| --- | --- | --- |
| Immediately after emergence of the last hand cover bunch with 100 gauge polythenebag. | Cut the hands from the bunch and separate. | |
| | |
| --- | --- |
| Give wash in a fungicide solution. | Remove damaged fruits, thinning. |
| | | |
| --- | --- | --- |
| | | |
| Packing with modified atmoshpere. | | Dry the moisture on the fruits with air. |
| | | |
| --- | --- | --- |
| | | |
| | | Packing in a cardboard box. |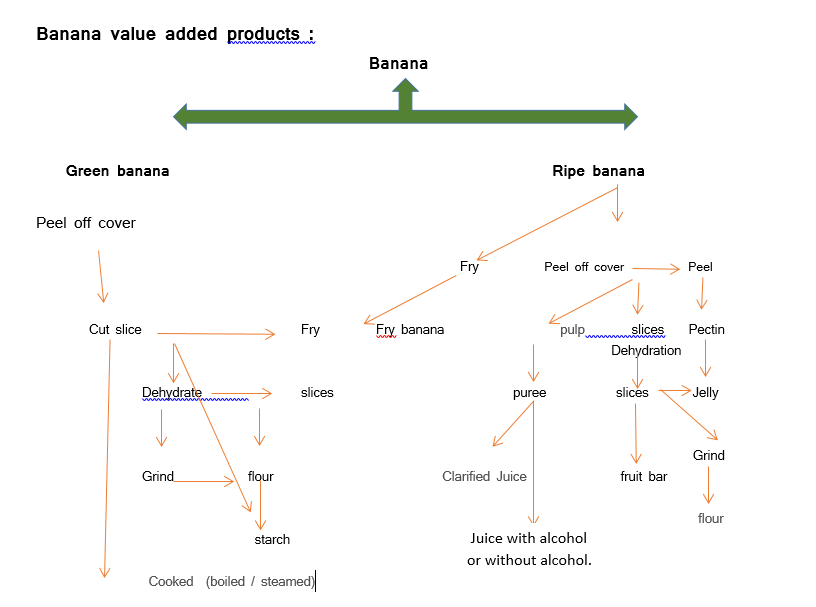 Processed Products of Banana :
| | | | | | |
| --- | --- | --- | --- | --- | --- |
| A) | From unripe Banana | B) | Fromripe Banana | C) | From Banana waste |
| 1. | Slices, Crisps, Chips | 1. | Banana Fig | 1. | Fibre |
| 2. | Flour | 2. | Flour | 2. | Banana flowerpickle. |
| 3. | Biscuits | 3. | Juice | 3. | Pesudostem candy |
| 4. | Health drink and Baby food. | 4. | Fruit bar | 4. | Peel to pickle and animal feed in silage. |
| | | 5. | Jam and Jelly | | |
| | | 6. | Fruit candy | | |
| | | 7. | Wine | | |